CGS-Minnesota Chapter
141 Warwick St. S.E.
Minneapolis, MN 55414
612-379-7419
​
Updated 2016-11-06

Click here for
​details on Dr.
Schwartzberg's
​newest book on UN reform​. (Published by United Nations University Press)​
Membership and Additional Donations:

If you donate at least $100, you will receive a personally inscribed complimentary copy of Joe's book, Transforming

the United Nations System: Designs for a Workable World

(list price, $40.00).


MEMBERSHIP AND DONATIONS FOR GLOBAL SOLUTIONS MN.ORG

Name: _______________________________ Occupation: ____________________________

Dues enclosed ($10, $30, $40. $100, or other): _____________________

Address: ______________________________________________________________________

Email: _______________________________ Phone: __________________________________


​Please make checks payable to "Global Solutions MN.org" and mail to Dennis Dillon,
210 W. Grant St., #414, Minneapolis, MN 55403 (Please include your email address.)
THIRD THURSDAY GLOBAL ISSUES FORUM


​
Free and open to the public. Come and bring a friend.
​
Where?
Plymouth Congregational Church (Jackman Room normally, lower level), 1900 Nicollet Avenue S., Minneapolis (Nicollet and Franklin)
​
Abundant free parking in lot on Franklin Ave. adjacent to church; enter building from lot on La Salle Ave. side.
​
These forums are jointly sponsored by the United Nations Association of Minnesota, and the Minnesota Alliance of Peacemakers.
Thursday, November 17, 2016, 6:45 – 8:45pm: "Freeing the Dove"
Presenter: Walid Issa, Palestinian Peace Activist

In his presentation, 27-year-old Mr. Walid Issa will share his story and discuss the projects he has created to promote peace between Israelis and Palestinians. Raised in the Dehesha refugee camp in Bethlehem, Walid is the founder of the American Palestinian Hope Project and the co-founder of the Shades Program on Negotiation. He has received a Welter Global Citizen Award from the Minnesota State Colleges and Universities, and a Student Leadership award from St. Cloud State University, where he received his degree in Economics. Don't miss a chance to share ideas with this inspiring young peace entrepreneur!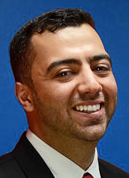 There is no Third Thursday Forum in December.
 January 19th: Kristi Rudelius-Palmer and Amanda Lyons will talk about global human rights treaties and the current stance of the United States on these treaties
​
 March 16th: Dr. Karen Shragg will present "Move Upstream: A Call to Solve Overpopulation"
​
 Proposed topics for February, April, May and our June Annual Dinner are: TPP (Trans Pacific Partnership); Brexit; the Global Refugee Situation; and U.S.-Russia Relations.

Details of the Third Thursday Programs for Jan. 19, Feb. 16, Mar. 16, Apr. 20, and May 18 will be announced in upcoming newsletters and on our web site.
​ – SAVE THESE DATES, and Stay Tuned!

At the Sep. 15 Forum, Dr. Joachim Savelsberg made a most interesting presentation on his book:

"Representing Mass Violence: Conflicting Responses to Human Rights Violations in Darfur".

The book can be read at no cost online.
Simply go to http://www.joachimsavelsberg.com/ and click on the book cover.